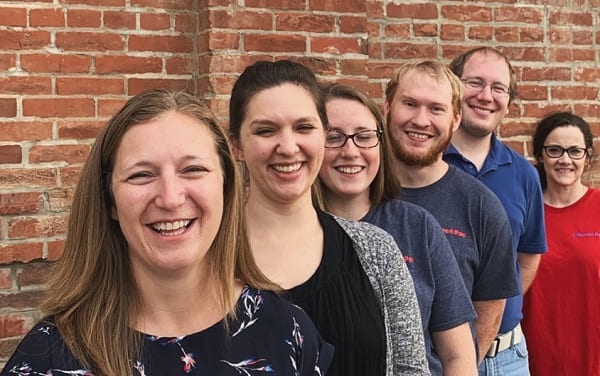 This article was originally published on the News & Insights section of the Wilbur-Ellis Nutrition website on December 6, 2019.
For Wilbur-Ellis Nutrition, quality and safety starts with the expertise and dedication that our teams bring to the job every day. Each team member plays an important role to ensure excellence for our customers and partners, and it is their unwavering commitment to quality and safety that makes Wilbur-Ellis Nutrition such a trusted partner among our customers.
Last October (2018), Wilbur-Ellis Nutrition made an important investment in our team expertise and capability in the area of safety and quality when we announced our acquisition of Ameri-Pac—a family-owned, value-added manufacturing business renowned in the industry for its attention and best-in-class standards around supporting animal health through the nutrition, mixing and testing it provides.
Over the course of the past year, the Missouri-based Ameri-Pac team of Food, Safety, Quality and Regulatory (FSQR) professionals, highlighted below, have been instrumental in helping to ensure best practices and high-level quality control and safety standards continue to be met and exceeded as a trusted brand of Wilbur-Ellis Nutrition.
Darcie Searles, Senior Manager of Quality & Compliance: Darcie started at Ameri-Pac in 2007 as a chemist and became responsible for initiating the team's pre-requisite program when she advanced to the role of Laboratory Manager. Today, Darcie oversees the St. Joseph-based FSQR team.
LeeAnn Fell, Senior Chemist & Chemical Hygiene Officer: LeeAnn has been a part of Ameri-Pac since 2010. Today, she oversees many day-to-day laboratory operations, the chemical control program and laboratory safety and emergency procedures and processes.
Maggie Miller, FSQR Leader: Maggie has overseen quality, food safety and Safe Food Safe Feed certifications since joining Ameri-Pac in 2012.
Cameron Twombly, FSQR Leader: Cameron advanced from his roles in production to production-formulation. He is currently an FSQR specialist, overseeing quality line checks, the Safe Quality Food certification and assists with the multiple programs such as the Environmental Monitoring, Pest Control and Foreign Material programs.
Brittney Liams, FSQR Specialist: A more recent addition, Brittany joined Ameri-Pac in 2019 to oversee company-wide training programs, assist with the Safe Quality Food certifications and collaborate with cleaning and sanitation teams to manage the release of raw materials and finished goods.
"We believe providing a quality product goes beyond our certifications," said Darcie Searles. "As a department, we are all accountable for the quality of each product from purchase of raw materials to distribution of finished goods. To be the provider of choice we must excel in these areas as they are major components in how our customers judge us."
As the FSQR team expands and strengthens within Wilbur-Ellis Nutrition, it does so with an eye toward incorporating diversity of background and ideas.
"The diversity in our team creates a stronger team and a stronger program. Each individual has unique strengths and experiences that can be utilized in various situations," explained Darcie Searles.
To learn more about our commitment to the quality and safety of our feed, and to explore opportunities for joining our team, visit our website at https://www.wilburellisnutrition.com/