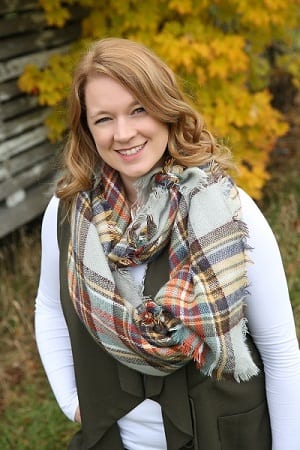 In celebration of National Agriculture Week and Women's Month, we're profiling and featuring one of our female agronomists.
A self-described doctor for plants and crops, Jessica Rader didn't set out to be an agronomist when she started her freshman year at Michigan State University. She credits a research internship with a soybean and wheat retailer for the decision to pursue a career in agronomy. Since starting at Wilbur-Ellis Agribusiness, Jessica has spent the last 11 years growing her career and building lasting relationships with farmers.
"Starting a career in an industry where I didn't know anyone and didn't have much training was challenging," she reflects. "I appreciate the support I've had here and the great group of people, including my first manager, that I can turn to any time I've had questions."
Jessica prides herself on being an adept problem solver helping farmers address their biggest pain points in her day-to-day role. When it comes to how her work aligns with the Company's values and purpose, Jessica says she's driven by the fact that she's on the ground working with farmers to help them grow better crops, improve their yields and be more efficient growers.
Jessica also acknowledges that last year was a difficult one for farmers and the agriculture industry as a whole. She encourages growers not to make rash decisions based on the past and stresses the importance of staying aware of what's happening in the industry from a global standpoint.
More than that, she wants those in the industry to be mindful of how they are managing their health. "What farmers and growers do every day is extremely stressful and challenging. I've talked to so many customers who have expressed their frustration. You have to find ways to take care of yourself, whether that's spending time with your family or taking a break during the day."
As for navigating and establishing herself in a male-dominated industry, Jessica is thankful to have a resource like Women of Wilbur-Ellis (WoW). "When you work in an industry like agriculture, it's easy to feel alone. It's been so helpful for me to have a group of people who you can turn to for advice and guidance. For me, having WoW as a resource is one of the many highlights of working at Wilbur-Ellis because you truly feel supported here."
Hear more from Jessica in the latest WEpod with Corporate Communications Director Katherine Fordon.