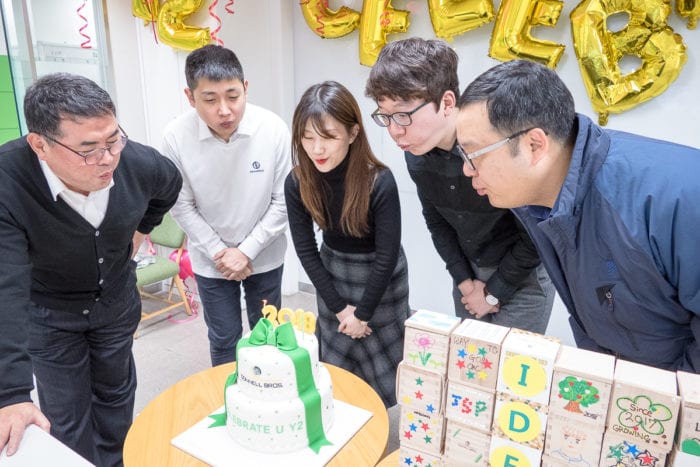 One of the great things about Connell is the diversity of our people. This comes from the nature of geography, bringing together different backgrounds and beliefs, yet unified through our Connell culture that embraces our values, mission, vision and objectives. There is so much to appreciate from such diversity; creativity, empathy, tolerance and how differently we come to the same point. We created "Celebrate U" last year as our day, to celebrate our achievements together.
At Connell and Wilbur-Ellis as a whole, everyone matters. Each person plays a different role and brings different experiences and perspectives to the table. When we add that together, we get an enormous level of energy and creativity that is highly contagious, encouraging us to continue to strive to be better and do more. We raise the bar for ourselves day after day, year after year. This is one of the reasons that as a team, we did better last year versus the year before.
I'm personally one of the fortunate ones that gets to visit all of our different countries and locations, witnessing so much of what everyone does throughout the year. So, I wanted to create a platform that gave everyone an opportunity to connect and increase appreciation for each other's work, utilizing our internal network to share each Celebrate U celebration across the world. It is so exciting and so much fun. I felt proud and, somehow, present in each and every one of the celebrations.
On January 16, all Connell offices around the world celebrated at 10 a.m. local time, making our Celebrate U festivities similar to a New Year's Eve celebration–dubbed Celebrate U Y2.
This year, the Celebrate U gift came in the form of a small square wooden box with a special soil and two "magic" beans. Each bean had a word from our shared discussions throughout the year, including "collaboration," "creativity" and "teamwork." Everyone took the opportunity to decorate their boxes and plant their seeds—all of which sprout in the next few weeks. Several colleagues have even started posting their plant's progress. With the words remaining on the beans as they grow, this is symbolic of the team growing and learning together.
As John Thacher said in the first IDEAS blog post, the strong foundation of Wilbur-Ellis comes not from our products or our reach, but from our people.
Different offices used different ways to celebrate by playing games, performing, singing to local or western tunes, cultural or western dances, sharing success stories, reflecting on what was accomplished last year and just taking a little time to enjoy each other. Our atmosphere is filled with positive energy, enthusiasm, can-do attitude and creativity that makes everyone want to join our team.
Our goal is keep our leadership position in our industry by bringing our ingenuity, effort and commitment to our partners. We know how to work hard and, clearly, play hard too. We know, everyone matters and every contribution matters. #CelebrateU