Agribusiness Sales


Sales Trainee
General Purpose and Scope of Position
The Sales Trainee is a development role that focuses on obtaining the skills required to become a licensed Pest Control Consultant with the goal of building a successful sales territory. Through their interaction with the branch field sales and management, the Sales Trainee develops the necessary skills to become a successful Field Sales Representative.
Search Open Positions
Key Skills and Abilities Include
Ability to apply mathematical concepts such as fractions, percentages and ratios to practical applications
Requires excellent interpersonal and strong communication skills (verbal and written) forinteraction with customers and fellow employees including the ability to maintain a positive and professional working relationship with peers, management and support resources, with a constant commitment to teamwork and exemplary customer service
Detail and accuracy oriented with an ability to prioritize and handle multiple projects simultaneously to completion within established deadlines
Proficient with computers utilizing Microsoft Windows and Office Suite applications
Key Personal Attributes Include
Bachelor's degree in horticulture, agronomy, plant pathology, entomology or associated agricultural science is
Eligible for Pest Control Consultant licenses and completion with the first 3 months
Ability to read, write and speak the English language fluently
Specific Responsibilities and Key Deliverables Include
Become proficient in all aspects of the retail agriculture supply business and crop
Assist field sales staff in all aspects of customer
Build product and market knowledge to add understanding and
Assist growers with agronomic
Conduct regular visits to customer's crop to examine and diagnose plant health. Recommend pest
and nutrition management programs that ensure best quality and yield.
Work towards developing into the Field Technology lead for
Maintain accurate record keeping of pesticide
Develop strong relationships with other Wilbur-Ellis Company employees based on teamworkand communication
Present a professional image to customers in all interactions (verbal, computer generated andface- to-face) and in personal appearance
Proactively seek and participate in available company-sponsored training, in an effort to develop and advance skill set and knowledge base
Make use of standard office equipment; Computer software and programs, Fax machines, postage machines, copier machines, etc. to effectively perform all aspects of position responsibilities
Strictly follow all company Follow all safety rules and regulations while performing work assignments and adhere to all policies and procedures as specified in company manuals, correspondence and as directed in the employee handbook
Perform all other duties as assigned by management in a professional and efficient manner
Compensation and Benefits
Competitive annual salary (to be determined based on experience and other factors)
Comprehensive company benefits
Agribusiness Sales Matrix
---
Hover over an icon or connection to highlight the relationships. | Click on an icon to see more details.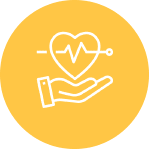 Benefits
We pride ourselves on being a great place to work, which includes supporting you beyond the workday. You can count on a competitive salary, comprehensive benefits, a people-first culture, work life balance, investment in training and development and career growth opportunities.