Nutrition Operations


FSQR Specialist
General Purpose and Scope of Position
The FSQR specialist will ensure quality and safety of products through inspections, audits and investigations. Responsibilities include implementation and documentation of SQF system and FSMA Food Safety Plan.
Search Open Positions
Key Skills and Abilities Include
Experience with SQF or other GFSI schemes
Familiarity with manufacturing of dry and liquid foodstuffs
Quality inspection experience
Knowledge of FSMA
Ability to evaluate tasks based on defined specifications
Bachelor's degree required; scientific discipline preferred
2 years experience in a GMP manufacturing environment
Key Personal Attributes Include
Self-motivated
Team-oriented
Organized
Adaptable to business needs
Attention to detail
Specific Responsibilities and Key Deliverables Include
Comply with all Food Safety Guidelines, work rules (including safety guidelines), Standard Operating Procedures, FDA and OSHA guidelines, as well as Federal and State laws governing the workplace
Implement necessary Food Safety Modernization Act (FSMA) principles within the facility including coordination and execution of the Food Safety Plan
Perform hourly production line inspections, weight checks, and work-in-progress (WIP) sample checks, as needed
Notify management of, and utilize stop work authority to address potential food safety issues as they arise
Support internal food safety systems to control product safety
Assist with completion of SQF program tasks to ensure compliance to standard; maintain documentation of SQF system activities
Participate in annual review of all SQF system elements and ensure completion including all prerequisite programs, review of policies, etc.
Assist with Internal, Customer and Supplier Corrective Action Preventive Action reports to include internal issues through closure
Assist with maintaining expired raw material inventory, sampling of expired inventory, and communicating any re-testing to the laboratory
Execute environmental monitoring and microbial program to ensure release of equipment and production areas post-sanitation
Perform required inspections, as needed, to support FSQR priorities
Coordinate training needs of organization personnel to ensure competency
Compensation and Benefits
Competitive hourly wage  (to be determined based on experience and other factors)
Comprehensive employee health and retirement benefit offerings
Nutrition Operations Matrix
---
Hover over an icon or connection to highlight the relationships. | Click on an icon to see more details.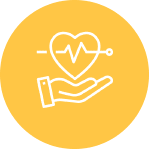 Benefits
We pride ourselves on being a great place to work, which includes supporting you beyond the workday. You can count on a competitive salary, comprehensive benefits, a people-first culture, work life balance, investment in training and development and career growth opportunities.