Agribusiness Operations


Warehouse Lead
General Purpose and Scope of Position
The Warehouse Lead will oversee and participate in the shipping, receiving, storing and issuing of product, inventory/fixed assets, maintain receiving and inventory control records and prepare related reports. Serve as a lead over one or more assigned warehouse functions; train and provide lead work direction and guidance to assigned staff. Participate in overseeing all aspects of warehouse operations and general warehouse duties, including but not limited to; stocking and retrieving package and bulk containers, driving a forklift and general housekeeping. Must enjoy working with a diverse customer base in a fast-paced setting.
Search open positions
Key Skills and Abilities Include
Possession of a valid CDL (preferred but not required)
Forklift Driver and Driving Certification (offered on the job)
High School Diploma or equivalent
Proficient with computers utilizing Microsoft Windows, Windows applications
Strong oral and written communication skills
Strong organizational skills with the ability to prioritize multiple assignments
Requires excellent interpersonal skills between both customers and fellow employees
Can effectively multi-task
Key Personal Attributes Include
Ability to work and contribute to a team approach with a positive attitude and outlook
Possess the leadership skills to effectively lead warehouse team
Knowledge or experience in agriculture operations is a plus
Willingness to operate material handling equipment including forklift, order picker, pallet jack, and other equipment as required
Willingness to work overtime hours during busy seasons
Excellent attention to detail
Specific Responsibilities and Key Deliverables Include
Provide support to drivers, and warehouse personnel
Oversee the efficient operation of the yard, warehouse, and all vehicles
Provide inventory management in the best overall economic interest of the company
Oversee daily and monthly inventory counts
Maintain accurate inventory records, ensuring no product leaves, or enters warehouse without the necessary paperwork
Assisting loading and dispatching of custom applicators
Provide additional oversight to the maintenance of equipment
Determine the storage location of products
Completes Hazardous Material shipping papers and train drivers, warehouse helpers and customers about transportation rules and regulations
Oversee and participate in the receiving, shipping and storing of inventory items
Meet and complete all Wilbur-Ellis regulatory safety and training requirements, including physical exams, self, and other branch employees
Ensures that all parts are in stock, maintains proper inventory
Organize and maintain safety training and records
Ensure that the warehouse has proper safety signs
Maintain the warehouse in a clean, orderly, safe and secure condition
Make recommendations regarding proper storage, inventory and warehousing procedures and improvements in warehouse efficiency
AGRIBUSINESS OPERATIONS CAREER OPPORTUNITY MATRIX
---
Hover over an icon or connection to highlight the relationships. | Click on an icon to see more details.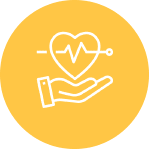 BENEFITS
We pride ourselves on being a great place to work, which includes supporting you beyond the workday. You can count on a competitive salary, comprehensive benefits, a people-first culture, work life balance, investment in training and development and career growth opportunities.