Agribusiness Sales


Sales Lead
General Purpose and Scope of Position
The Sales Lead is an Agricultural Field Sales Representative responsible for sales leadership above and beyond their sales representative duties. This role is carrying the responsibility of being the key point of contact at the location level and acting as the liaison between the Sales Manager and Sales Reps. The role continues managing existing accounts and attracting new customers within a defined sales territory. Assisting customers with the proper product selection and use of products based on specific agronomic needs. The Sales Lead will maintain and develop profitable customer relationships while becoming the market leader within the defined sales geography.
Search Open Positions
Key Skills and Abilities Include
Ability to establish strong relationships with field personnel, peers, and customers
Knowledge of agricultural production
Ability to lead and influence
Ability to handle multiple projects simultaneously
Ability to work independently with minimal supervision
Proficient with computers utilizing Microsoft Windows and Windows applications and ERP order entry systems
Ability to travel by vehicle or commercial transportation to other branches, meeting locations, or customer farms
Ability to work for long periods of time while standing
Ability to bend, stoop, kneel, and lift up to 40 lbs. safely and easily
Key Personal Attributes Include
Bachelor's degree or higher in Agriculture or Business-related field is A BS in Ag is required in certain geographies.
Three to five years' experience in the Agricultural industry (preferred)
PCA License required (in certain geographies)
CCA License required (in certain geographies)
Good interpersonal and team building skills with a positive attitude
Excellent written and oral communication skills with the ability to communicate effectively with small and large groups
Detailed and accurate
Willingness to travel up to 25% of the time
Physically able to endure outdoor climates including hot or cold weather extremes
Willingness and desire to embrace technology to add value to service offering for customers
Enjoy being actively involved in developing others
Specific Responsibilities and Key Deliverables Include
Responsible for responding timely to inquiries from local Sales Reps, including addressing pricing needs
Assist the Sales Manager by acting as point person for pricing and forecasting
Actively mentor sales reps and provide guidance through organizational and process changes
Maintain vendor relationship for local market
Provide guidance on account switches, new accounts, and past due list
Contributor to performance reviews and goal setting
Manage existing customer base
Identify new key customers, understand their business, determine their needs, and develop plans and actions for sales territory growth
Communicate with branch management the initiatives, objectives, strategies, and action plans
Serve as point person to manage the support resources of the territory including value-added nutrition, branded products, seed, purchasing, and technology while overseeing the implementation and success of the plans and objectives in conjunction with branch personnel
Responsible for sales territory budgeting, forecasting, and analysis
Follow credit policies and manage risk for the company
Develop annual business plans that optimize growth and profitability for the territory
Implement marketing and sales plans
Establish and meet sales goals
Network with industry representatives to expand sales opportunities
Build product and market knowledge to add understanding and credibility
Support other team members to attain branch and performance goals
Proactively seek and participate in available company-sponsored training to develop and advance skill set and knowledge base
Become primary contact between customers and Wilbur-Ellis Company including deliveries, forecasting, credit, complaint handling, custom application,
Present a professional image to our customers in all interactions (verbal, computer and face-to-face) through personal appearance and overall demeanor
Perform all other duties as assigned by management in a professional and efficient manner
Compensation and Benefits
Competitive salary (to be determined based on experience or other factors)
Comprehensive company benefits
Agribusiness Sales Matrix
---
Hover over an icon or connection to highlight the relationships. | Click on an icon to see more details.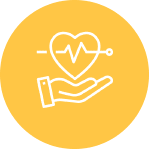 Benefits
We pride ourselves on being a great place to work, which includes supporting you beyond the workday. You can count on a competitive salary, comprehensive benefits, a people-first culture, work life balance, investment in training and development and career growth opportunities.