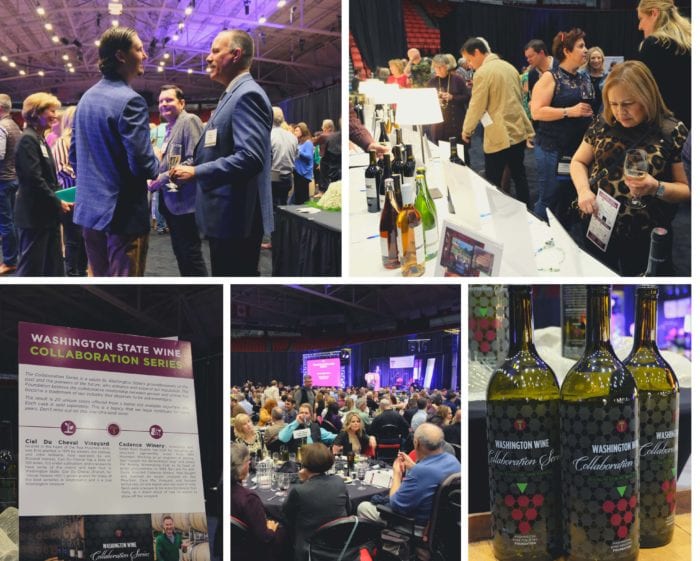 Kennewick, Wash. – March 12, 2020 – The Washington Wine Industry Foundation raised over $220,000 to support work on challenges in Washington state's wine industry.
Called "Party + Auction", the March 4 event drew nearly 500 wine industry leaders to a custom chef-designed dinner at the Toyota Center in Kennewick. The event raised funds from a 50/50 raffle as well as silent and live auctions with items including international trips, exclusive winemaker dinners, magnums of Washington wine and more.
The WWIF has been awarded nearly $3 million in grants and distributed over $300,000 in scholarships to over 200 students as well as helping fund the Washington State University Teaching Vineyard and a seat in the popular Washington AgForestry Leadership Program.
Collaboration Series Released
The third annual "Collaboration Series" was released during the event which showcases a grower and vintner partnership to produce 25 cases of unique wine offered exclusively by the Foundation.
Series 3 features Jim and Richard Holmes of Ciel Du Cheval Vineyard in Red Mountain, Washington, and Ben Smith of Cadence Winery in Seattle. A single barrel will hold Cadence Winery 2018 100% Cabernet Franc Clone 214 designated from Ciel Du Cheval. Bottles and design were donated by Shara Green of Universal Packaging and Jim Carey of Doubleknot Creative.
Sponsors of the event include Sphere Foods, Ste. Michelle Wine Estates, Wilbur-Ellis, CliftonLarsonAllen, Four Feathers Wine Estates, Stoel Rives, Rabo AgriFinance, PolarClad, Andrew Will Winery, Succession Wines, and L'Ecole Winery.
###
About Washington Wine Industry Foundation

The Washington Wine Industry Foundation brings together partners and facilitates funding to craft sustainable solutions to our industry's challenges.
About the Wilbur-Ellis Companies  
Founded in 1921, the Wilbur-Ellis companies are leading international marketers and distributors of agricultural products, animal feed and specialty chemicals and ingredients. By developing strong relationships, making strategic market investments and capitalizing on new opportunities, the Wilbur-Ellis companies have continued to grow the business with sales now over $3.1 billion. www.wilburellis.com 
Wilbur-Ellis Agribusiness generates more than $2.1 billion in sales revenue annually and has over 160 branch locations throughout the U.S.  

Back to news