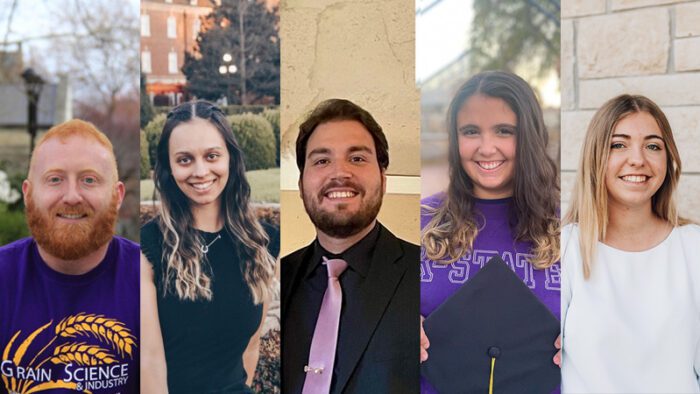 In the second year for the Wilbur-Ellis Innovation Award, the company congratulates five student teams from universities around the country for their innovative ideas about feeding a growing world population.
The top honor of $25,000 was presented to the Grain Science Team from Kansas State University for their proposal to increase production of perennial crops. The team made the case that perennial crops require less soil-intensive practices than annual varieties, and outlined how increasing production of perennials could promote soil health, biodiversity, carbon sequestration, water quality, and agricultural systems that can adapt better to climate change. Last year, another KSU team also took the top Innovation Award honor.
In the 2023 program, $5,000 Honorable Mention Awards were also presented to four teams representing Kansas State University, University of California, Davis, Iowa State University, and University of Maryland, Baltimore County. To learn more about the Innovation Award and this year's winners, visit https://www.wilburellis.com/innovation-award/.
The Wilbur-Ellis Innovation Award was launched as part of the company's 100th anniversary celebration in 2021. In the two years since the program began, 230 students have participated on 60 teams, bringing forward creative ideas to enhance agriculture and food production. This is a critical imperative, as the global population is expected to increase by 2 billion people by 2050.
"The Innovation Award reflects the role Wilbur-Ellis has always played – over its 100-plus year history – in bringing innovative solutions to our customers," said Wilbur-Ellis President and Chief Executive Officer John Buckley. "That pipeline of innovation begins with an idea … with creative people looking at a challenge in a new way and developing better approaches. That's what we do every day at Wilbur-Ellis, and with the Innovation Award, we want to give young people the opportunity to think creatively and work together to explore solutions to big challenges. At Wilbur-Ellis, our purpose is to provide the essentials for the world to thrive. And I can't think of anything more essential than providing food for a growing world."