100 Years and Growing:
100 Years and Innovating
|
100 Years and Giving
|
100 Years and Evolving
How the Giving Program Works
Your Ideas
Tell us how Wilbur-Ellis can continue growing, innovating, giving and evolving
Support
For each response, Wilbur-Ellis will make a donation to the Red Cross
Giving More
Help grow our contribution by answering new questions every month
Wilbur-Ellis employees and friends … do you have a message for employees 25 years from now?
To learn more, check out CEO John Buckley's video.
Tips for answering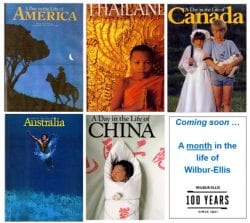 As we mark the final month of Wilbur-Ellis' year-long 100th anniversary celebration, you and the kids in your family are invited to leave a legacy for Wilbur-Ellis employees (and their kids) 25 years from now!
Similar to the wonderful "Day in the Life" books, we want to capture a MONTH in the life of Wilbur-Ellis. Please take photos, shoot videos, do artwork, or write messages capturing what life is like today, and submit them.
Your submissions will go into a "time capsule" that will be sealed until Wilbur-Ellis' 125th anniversary – 25 years from now – on June 29, 2046. Your submissions also will add to our contribution to the Red Cross – and kids who submit outstanding responses (through the submission form for kids) could receive a $200 USD award or a $50 USD honorable mention.
It should be fun to open the time capsule 25 years from now – to see what life was like way back in 2021!!!
What should you say in your response?
It would be great to feature the people and things that are important to you. That may be your family … your work … your friends and co-workers … the places or activities you enjoy.
Maybe you'd like to give a simple shout-out to the company on its 100th anniversary.
Or maybe you have some thoughts or words of encouragement for the next generation of Wilbur-Ellis employees.
Whatever it is, this is our chance to leave a message for future Wilbur-Ellis generations … and make our final month of celebration truly special!!!